A well designed building enhances the lives of those who live, work or play within its walls, utilises space, materials and energy efficiently, whilst adapting to your changing needs and future requirements.
mi architects is a small practice based in the outskirts of Dornoch, Sutherland, and was established in 2013 by architects Margot Stoddart and Iona Currie.
I approached mi architects for a house extension design, having struggled to find a helpful architect locally, and helpful they were, right from the start. All the required planning and building approvals were obtained painlessly and in quick time. Our specific requirements were incorporated and good, sensible, cost saving advice was offered, and completion was obtained without any trouble. Along with the recommended first-class local builder, the whole project was completed to schedule and within budget. I would not hesitate to recommend Margot and Iona and will be very happy to use them again should I need an architect.
mi architects' local knowledge and thorough professionalism helped ease our project through the planning and building control system without a hitch.
We were very happy to be introduced to Margot and Iona's practice through the recommendation of another architect. Since then we have had two lengthy meetings, and one very thorough home survey. We have absolute confidence that all our concerns and requirements have been considered and met (including off the cuff changes of mind by us!) and we are delighted both with the drawings they have produced, and the smooth passage through the planning process which followed shortly afterwards. We would have no hesitation in recommending mi architects to others in need of their services, and we look forward to working with them on the next stages of our project.
New house, TAIN  The house has a simple rectangular form and adopts an upside-down layout, with the main living areas enjoying feature windows to soak in the light and optimise on the views out to the Dornoch Firth.    The sharp external finishes of zinc roofing and black cladding contrast with the light interiors and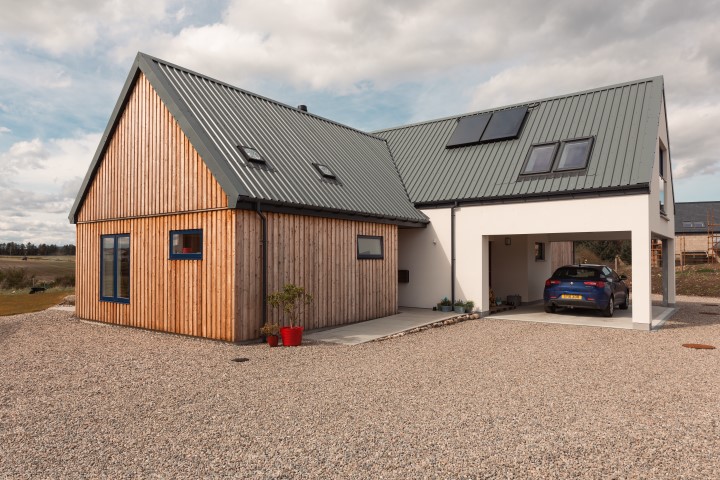 New house, DORNOCH   This family home, recently completed, has outstanding views out through the double-height living space. The house is laid out to allow a mix of open plan social space with volume to connect with quieter more intimate sitting areas and bedrooms.   A covered carport provides direct access to the utility room giving protection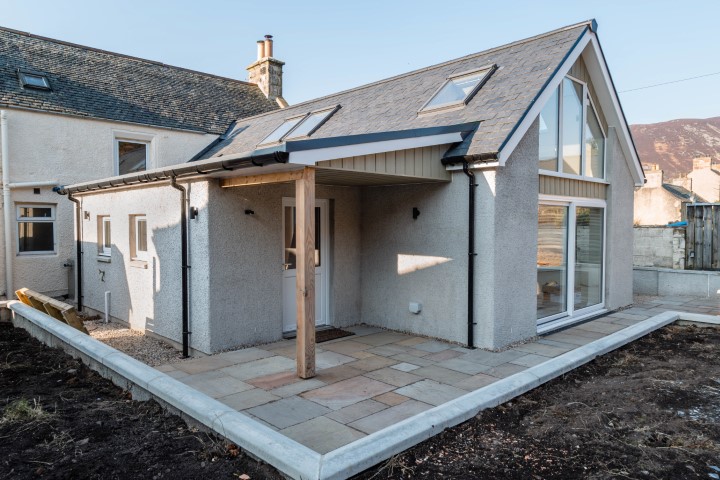 Extension to house, HELMSDALE   This house, set in Helmsdale is a traditional property that had been extended with a small flat-roofed kitchen. The project involved removing the existing kitchen and boiler house extensions and replacing them with a new open plan kitchen dining and seating area, and a new utility room. The rear of