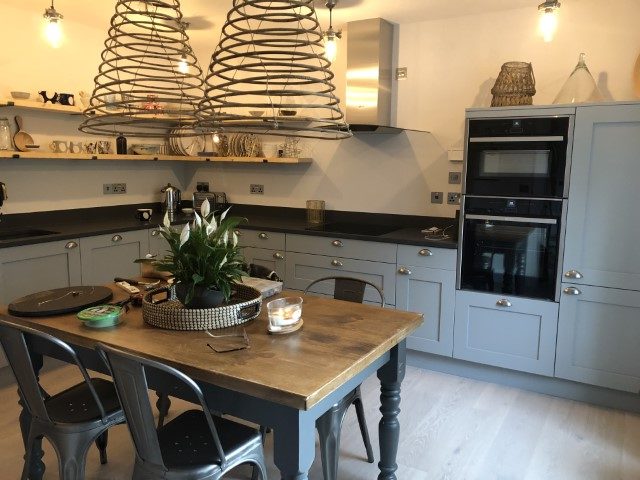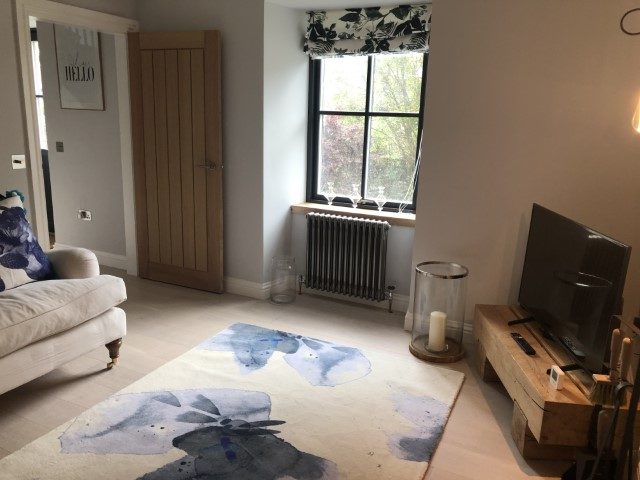 Outstanding and professional service provided. The whole project was managed very efficiently by Margot from beginning to end, including the Building Warrant application and contractors. I was kept updated throughout all the stages of the refurbishment by both email & telephone.
Sound advice and always friendly and considerate. A really great company to deal with and would definitely recommend.
Extension To House, PORTMAHOMACK
I approached mi architects for a house extension design, having struggled to find a helpful architect locally, and helpful they were, right from the start. All the required planning and building approvals were obtained painlessly and in quick time. Our specific requirements were incorporated and good, sensible, cost saving advice was offered, and completion was obtained without any trouble. Along with the recommended first-class local builder, the whole project was completed to schedule and within budget. I would not hesitate to recommend Margot and Iona and will be very happy to use them again should I need an architect.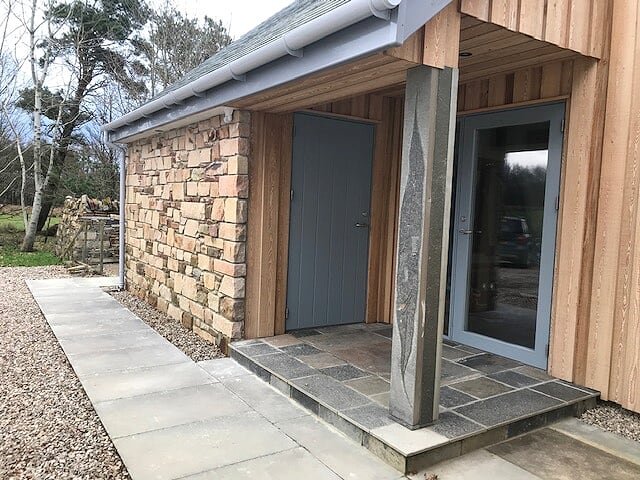 Renovation and extension to house, nEAR DORNOCH
The idea of building an extension onto one's home is for most people daunting. We had been thinking about this idea for a long time and in the recent years we saved up enough money to make it a reality. When we were looking for qualified practising architects in the local area, Iona and Margot were a natural choice. When they came to visit us, we were put at ease with their professional knowledge. They worked out design solutions for our old croft house, with its tricky floor levels and ceiling heights, to smoothly connect to a new extension. Their design also brought in streams of light into the existing dim core-house spaces. Throughout the whole building works they were very supportive and always there at the end of the telephone for advice to our builders and ourselves.
Sliante Iona and Margot – we love our newly renovated and warm home!
Conversion Of Existing Garage To Self Catering Accommodation, BLACK ISLE
We chose Margot and Iona as our architects because we immediately sensed that we could have a good dialogue with them. They were good listeners and very easy to work with. Having 'two for the price of one' was a definite advantage and their ideas and designs more than addressed the challenges of our project. They were always accessible, responsive, helpful and friendly, leading us patiently and professionally through all stages of the design and planning process. Highly recommended.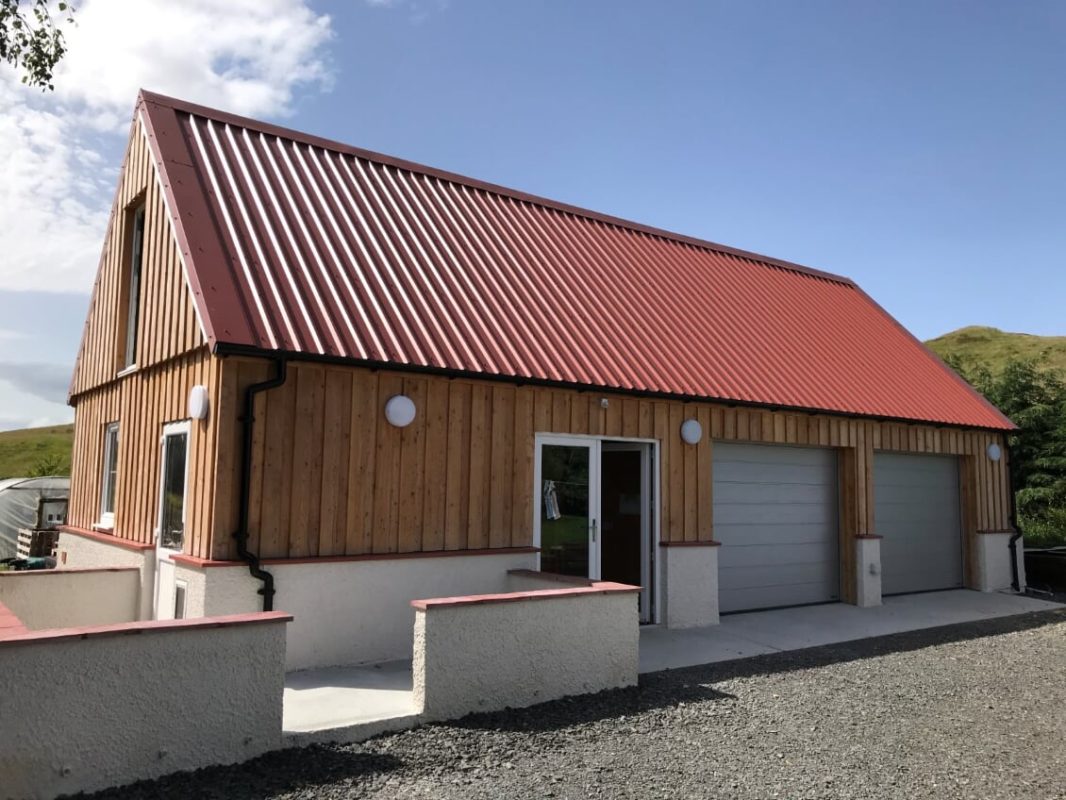 Garage and Workshop, STRAHBRORA
We were very pleased with the service from mi architects. Iona and Margot very quickly understood our aspirations for the project and were very supportive about turning our ideas into very practical reality.
When we had to prune back our initial ambitions, they were very positive about identifying realistic solutions, particularly as we feared our difficulties might be insurmountable.
They were keen to understand the peculiar logistics of our site and, once engaged, were extremely helpful in delivering the project: identifying contractors, dealing with the planning authorities and engineers. We are absolutely delighted with the final result.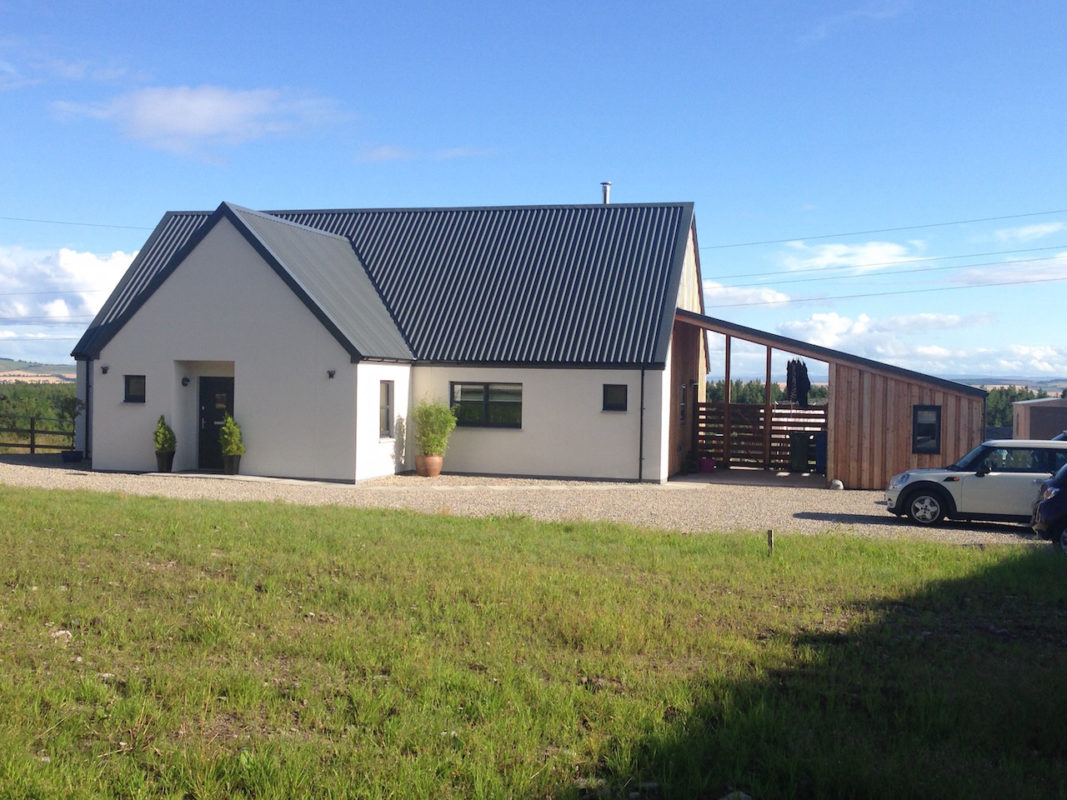 We were recommended mi architects by a colleague and they didn't disappoint. They were able to take our dreams and hopes for an energy efficient house and make them a reality. From the onset they were professional yet friendly, offering advice and support which continued throughout our whole build. We have had numerous strangers knock on our door to ask who designed our house and numerous requests to view our house internally and everyone has been blown away and we have received very positive feedback from every visitor and of course we have loved every part of our dream home.
House Extension, CULBOKIE
We were delighted with the service provided by Marot and Iona. We extended our home to include a snug and office, and extend our bedroom. We are pleased with the storage space included in the drawings and found the flexibility, expertise, advice and professionalism to be second to none. With no previous experience in this area, they put us at ease and made a sometimes complex process very simple to understand. We would thoroughly recommend miarchitects to anyone thinking of extending their home.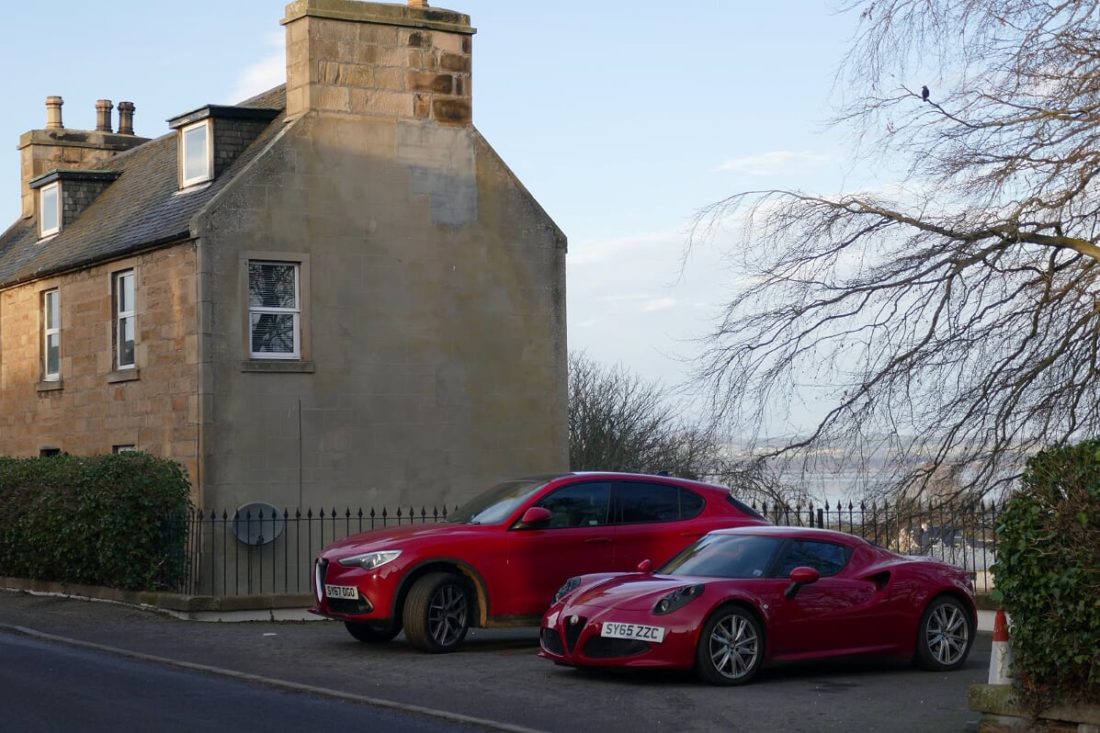 Margot and Iona have worked on two major projects for me. The first, a major and innovative solution to car parking in a conservation area, has been a resounding success.
The second, and current project, is our new house, the design of which won plaudits from Highland Council's Conservation Officer for its design which, though thoroughly contemporary, sympathetically complemented the Conservation Area it is in.
Margot and Iona are ideal people to work with. Unlike some professionals they listen rather than push preconceived ideas at one. The result is you get something better than your original expectations, smoothly and stress free.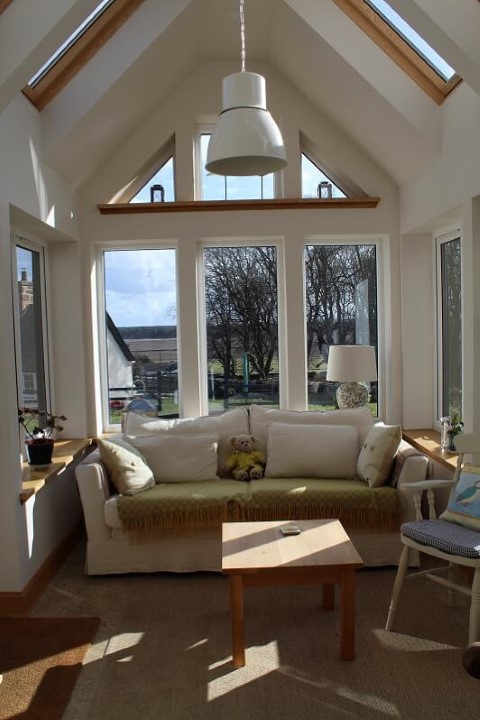 Traditional Farmhouse Renovation Project, GOLSPIE
We thoroughly enjoyed working with Margot and Iona of mi architects. We successfully transformed a traditional farmhouse requiring a total upgrade into an attractive new and stunning living space. We are delighted with the results.
mi architects listened carefully, asked the right questions and translated our needs and aspirations into a terrific aesthetic outcome. The resulting renovated property works very well inside and, externally, it blends seamlessly into the landscape and the surrounding traditional and modern buildings on the farm.
Our contractors had no issues to deal with when using the mi architects' drawings and technical specifications. Work progressed well on the complete refurbishment project. It incorporated three small extensions onto a traditional L shaped farmhouse. Challenges were successfully overcome and we are delighted with the results. We would have no hesitation in recommending mi architects to potential customers. They will not be disappointed with the service as it is friendly, affordable and most of all – efficient.
mi architects' local knowledge and thorough professionalism helped ease our project through the planning and building control system without a hitch.
mi architects designed and planned our house, Bellegrove House, from start to finish through all the council stages: Planning through to Building Warrant and all the environment & landscaping issues in between, which is not an easy task to say the least.
Both architects Iona and Margot were deeply involved and carried out their duties impeccably and without any fuss and we would highly recommend them and we will certainly utilise both of them in the future.
House Extension, PORTGOWER
We were very happy to be introduced to Margot and Iona's practice through the recommendation of another architect. Since then we have had two lengthy meetings, and one very thorough home survey. We have absolute confidence that all our concerns and requirements have been considered and met (including off the cuff changes of mind by us!) and we are delighted both with the drawings they have produced, and the smooth passage through the planning process which followed shortly afterwards. We would have no hesitation in recommending mi architects to others in need of their services, and we look forward to working with them on the next stages of our project.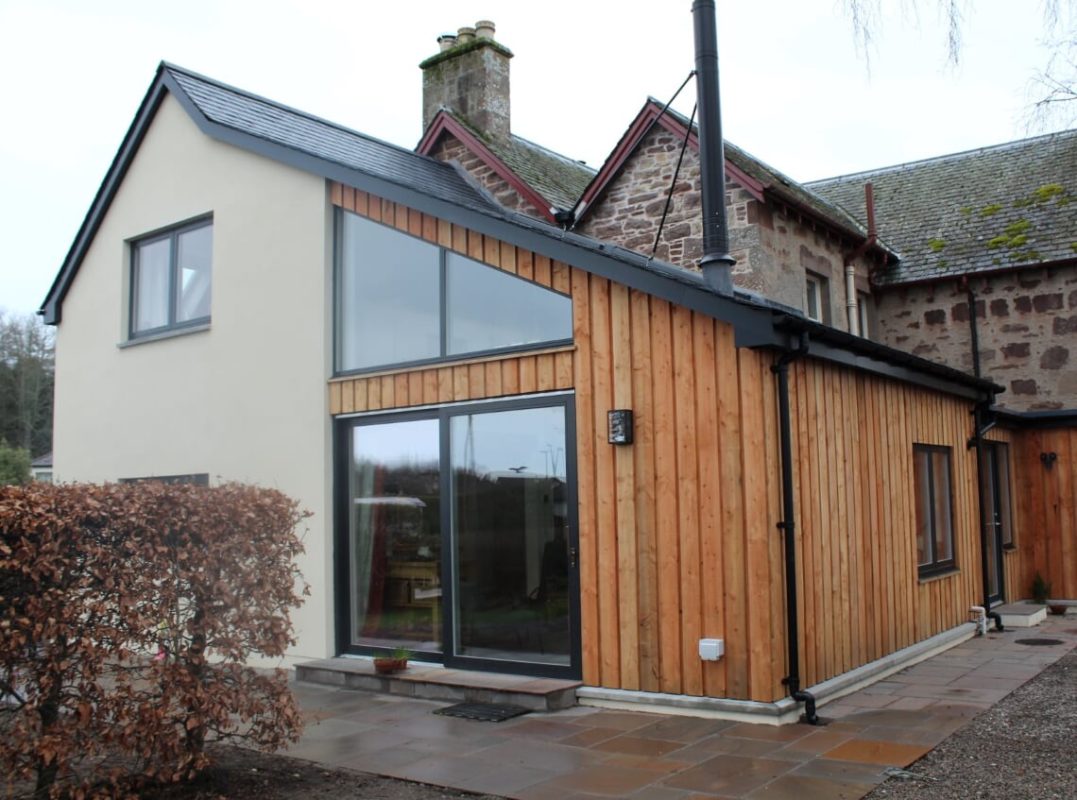 We were very pleased with the service that we got from mi architects. Margot and Iona were very engaging and took on board what we wanted to achieve from the project. They were happy to take on board our ideas as well as provide helpful advice where needed and liaised well with the structural engineers and builders throughout. We are delighted with our finished extension and would be happy to recommend mi architects to anyone in the future.
House extensions, ROCKFIELD
We would have no hesitation in recommending Iona and Margot, mi architects. The did a wonderful job of three separate extensions for us, one in particular being very tricky, and we were delighted with the results.
Planning in Principle for three house plots, NIGG
mi architects have provided an excellent service to us, professional, thorough and best of all pain free. We would highly recommend them to anyone intending house sites or other building plans.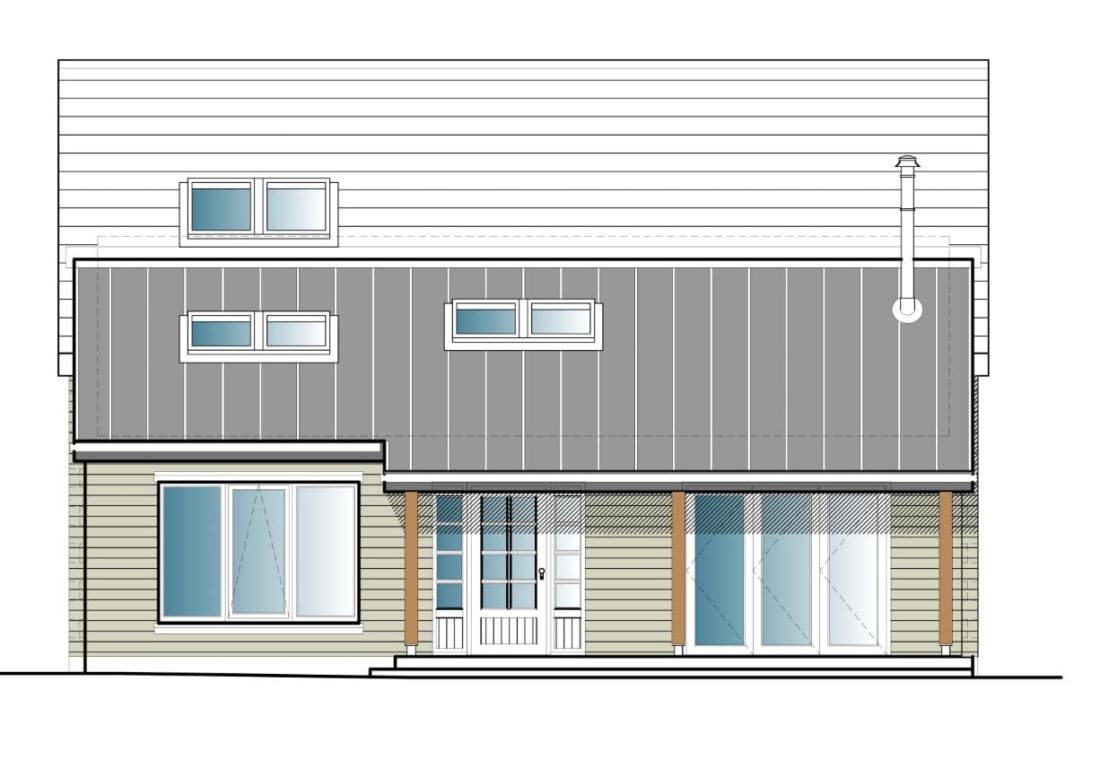 We are very grateful to Iona & Margot for their assistance with our long-planned extension to our 1990 house. Iona has listened and advised us in her knowledgeable, kindly manner and dealt with all the hassle of outstanding planning issues. We are very happy to have exciting plans to give a sympathetic facelift to our property.
New outbuilding and workshop, STOER
I originally approached mi architects because I needed a design for a building. However, I hadn't realised that between my ideas and the finished result there would be so many regulations which, much of the time, threatened to thwart my ambitions. In large part their role became one of interpreting my vision so that it could actually be achieved. It is a testimony to their expertise that I now have a building that does what I want it to do, is flexible, fits well into a tight space and looks good.